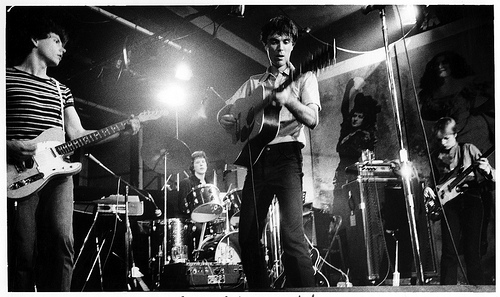 Well, it can't be much of a suprise that Talking Heads were crucial to this guy growing up. I'll never forget hearing "Burning Down The House" coming out of a bread truck in front of the Seminary Plaza Safeway in Alexandria, VA when I was 11. It was a fresh spring day and I was sent to buy milk or something. I'm sure I just stood in front of the truck with a dumb-ass blank look on my face, staring into space, recieving transmissions from my home planet for the very first time.
They are my favorite rock and roll act of all time. It's settled at this point.
I've never really been happy with any of the commercially available compilations of their music. So the other day I decided to make the Travis Morrison-Approved Talking Heads Curation. It's a funny thing to do with a band you know so well. A lot of times you don't think of it. But I realized while doing it that I didn't like their comps, because they insist on chronology as the way to see the band, like some Beatles-y development narrative. That ain't where it's at.
The reason for that is that the band was good for the same glorious reason at the beginning, middle, and end, and it's not anything you need to read ArtForum to understand. It was their commitment to rock and roll rhythm... a commitment that transcended any notions of what was a "white" or a "black" beat in American music, not to mention notions of the borders of American music itself. That's what got them into the rock and roll hall of fame. It's no stretch to say that that committment inspired me to live the life I live.
So in the unconscious interest of hearing the Heads in that context... I made somewhat shuffled mix of their music that ended up sounding much like a Talking Heads "party" mix. One interesting thing is that they are a band for whom a few definitive song versions come from a live record, Stop Making Sense. That's a bit unusual as far as I know.
They were truly great. My love for them definitely flowered anew after making this mix. Hope you enjoy it!