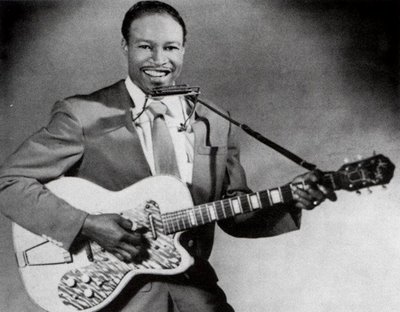 Rhapsody asked me to make a playlist, so I decided to think of some of the music my dad used to listen to around the house.
He graduated from high school in 1959 in St. Petersburg, Florida. He had a taste for the music that eventually became known as "rock and roll" when it hit the white crowd but was also called "rhythm and blues" for quite a while. (I guess. I mean, I'm old, but I'm not THAT old. I'm not sure I'm right about this. I hope I don't get, like, a spanking from Peter Guralnick in the comments.)
Of course Ray Charles is the great Apollo of that style of music, but I can't actually say that my dad listened to that much Brother Ray. He liked Ray Charles but it wasn't crucial. His relationship with the blues was very particular--some Chicago, very little Mississippi, never acoustic, Robert Johnson was nothing to him--and never seemed to give a whit about later developments like James Brown or funk. I can't even really say he loved Sly Stone much, although I could be wrong about that. His taste in jazz was peculiar to the point of perverse--his main men were Dexter Gordon, Ahmad Jamal, Red Norvo, and Art Pepper. Which, I mean, ok, but...
No, his bread and butter was the early, rough rock and roll... like Hank Ballard of "Annie Had A Baby" fame... He loooooved Hank Ballard... and the bizarre, forgotten-but-not-forgotten Jimmy Reed, a low energy blues mumbler with peculiar chords and propulsion that weirdly seems to gain steam the more monotonous and inattentive it got... kind of like John Lee Hooker on barbituates and helium. Reed, I believe, shows up in the recent Keith Richards, Neil Young, AND Bob Dylan books; the guy has a story that maybe should be told a bit more.
The two R&B celebrities he really adored were Little Richard and Jackie Wilson. With Wilson, I think he saw him live once, and apparently Jackie Wilson was the MAN live. And Wilson was a strange kettle of fish himself, hard to pin down. I can see why my dad liked him. As for Mr. Tutti Frutti... I mean, I can't imagine being 15 and hearing that Little Richard over a transistor radio for the first time. Talk about galvanizing.
My efforts to buy the man music on birthdays and holidays was never much of a success, with one glowing exception. One year I got him the Swingtime Records compilation. And he REALLY dug that. If you're curious about the sound I'm talking about, that's a good place to start.
Anyways, if you're a Rhapsody user, please do check it out here.
Peace!
-T