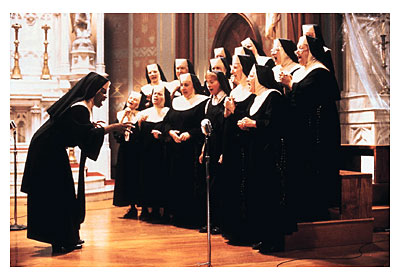 I've been singing in church choirs since about 2006. First it was Del Ray Methodist in Alexandria, VA; Then National Cathedral in Washington, DC; Since moving to New York City in 2009 I've been doing my thing at Trinity Wall Street, the super old cathedral down in the Financial District.
Some seasons I'm more present then others; working on The Dismemberment Plan record, a trip to Jazz Fest in New Orleans, and some other commitments made me miss a lot of singing this spring, which was a bummer. Hopefully Fall of 2013 I will be back in the saddle.
I get asked a lot about what I get out of it. I suppose there are a lot of things. There is the eccentric and high-spirited community of the singers; There is the pure logistical ease of it compared to rock and roll (you only need your voice and a pencil;) There is the beautiful questing humanity of the rituals and the faith; Getting some kind of toehold into the mysteries of musical sight reading; and there is singing right next to the pros, AKA the Trinity Choir, all of whom are beastly musicians and from whom I have learned so much.
But at the end of the day y'all it's about the music For me. Trinity programs a very satisfying mix of High Anglican, continental, and American sacred tunes, familiar and new. It's just really great stuff they pick.
So I scoured YouTube for a while and found some nice performances of my favorite peices to sing, and here they are for your enjoyment. A lot of old chorale heads probably won't be too impressed by my choices, they are all established selections. But hey, what's old to you can be brand new to anyone else.
---
Mozart, "Ave Verum Corpus"
The best song ever written? Maybe. The thing about this piece, and it seems Mozart in general, and like all the work of geniuses, is that it seems "easy" when you read it and yet to reproduce it well requires utter concentration.
---
Bainton, "And I Saw A New Heaven"
An eerie setting of text from Revelations. I believe using Revelations is somewhat unusual in European sacred music but I might be wrong. This song always makes me feel like I am setting foot on an alien planet. I guess that's the idea. Tenors get to flex a bit on this song which is always fun. Love our line at 2:52. "And god shall wipe away all tears from their eyes." Such a beautiful melody.
---
Dawson, "There Is A Balm In Gilead"
LOVE the arrangements of William Dawson. He's an American, out of Alabama. I have two books of his stuff and I make time to learn his stuff on guitar whenever I can. Lots of straightforward beauty with occasional bursts of crazy gospel chords. This is a pretty damn good version of this song--Stand up William and Mary Choir!
In fact, I love the man's music so much, let's do another: "Ev'ry Time I feel The Spirt." This was the recessional at my wedding. David Brown of The Burlies and Poor But Sexy sang the solo. Another Virginia college choir ftw!
---
Willan, "Rise Up, My Love, My Fair One"
Another one from my wedding. This is not actually my wedding, but it's a superb version of it. Very romantic song. The text is from deathlessly beautiful (and randy) Song of Solomon.
---
Durufle, "Ubi Caritas"

Can't lie, this one always threatens to make me tear out. It's the outro that always gets me in particular. So honestly beautiful. And I think the words are very moving no matter your position on faith.
The translation:
Where charity and love are, God is there.
Christ's love has gathered us into one.
Let us rejoice and be pleased in Him.
Let us fear, and let us love the living God.
And may we love each other with a sincere heart.
Where charity and love are, God is there.
As we are gathered into one body,
Beware, lest we be divided in mind.
Let evil impulses stop, let controversy cease,
And may Christ our God be in our midst.
Where charity and love are, God is there.
And may we with the saints also,
See Thy face in glory, O Christ our God:
The joy that is immense and good,
Unto the ages through infinite ages. Amen.
---